App Settings
View, edit, and manage your application's settings and configurations. Find your app's Client ID and Client Secret as well as other authentication information here.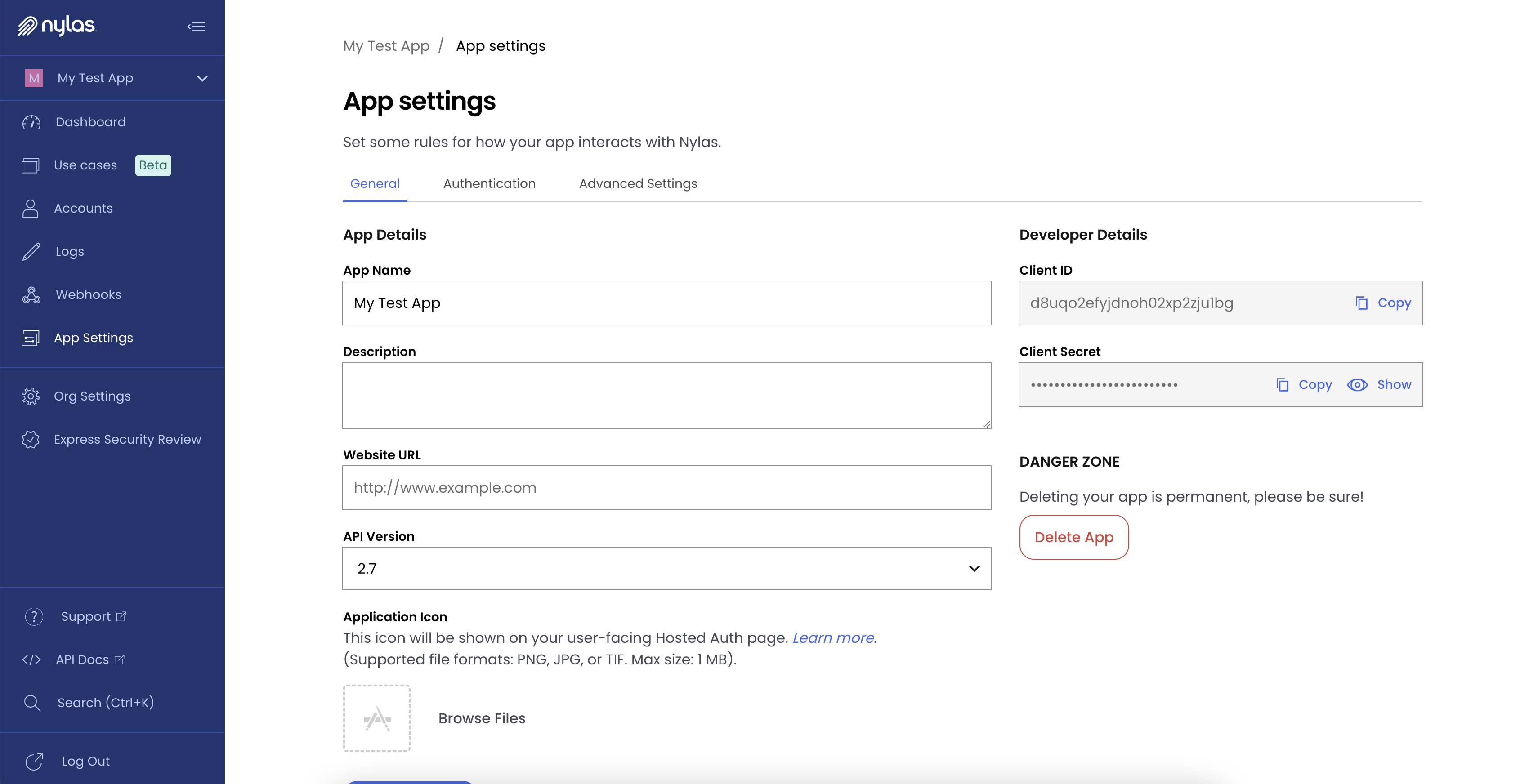 What's an application?
The word "application" can mean many different things out in the world. Here in the Nylas docs, there are three types of "applications". We do our best to be clear and specific about which one we're referring to.
Your application (sometimes "your app") - This is the thing you, our customer, are building. Whether that's a mobile scheduler app, an automated email responder, or something else, this is the overall project and code you are working on.
Nylas application - A Nylas application is a set of configurations, authentication settings, and user grants used to connect to a specific provider using a specific authentication type.
Provider application - Large service providers require that you connect to their servers using an application tailored to their platform. For example, Google requires a Google Cloud app to connect to to Gmail, and Microsoft requires an Azure app to connect to Outlook365 and other services.
Application configurations
Each Nylas application has separate configurations for the following:
API Version - Nylas uses API versioning to make sure that the new feature releases and breaking changes don't impact your production applications. See API versioning for more details.
Webhooks - Each Nylas application has its own webhook configuration. This allows you to create a development application to test webhook changes with a limited amount of traffic.
Customized Authentication - Nylas stores customization information, for example your company name and logo, or each Nylas application that uses Hosted Authentication. This means you can have multiple products, each with its own Nylas application and with different customized auth experiences.
Google and O365 OAuth credentials - You might want a separate provider application for each environment production and staging for Microsoft 365 or Google Cloud application. This way you don't lock yourself out of a development or test environment when you put a provider application in for review.
Creating new Nylas applications
You should set up separate Nylas applications in your Nylas organization for your development, staging, and production environments. Each application has a unique Client ID and Client Secret which are used to manage and authenticate user accounts.
The Client ID and Client Secret allow account and application management so you should treat them like any other credentials and store them securely. Don't save them in your source code, don't leave them in unencrypted storage, and follow security best practices.
The Client ID and Client Secret cannot be used to access to user account data. Only the access tokens Nylas generates during end-user authentication can access user data.
Find your Client ID and Client Secret
Each Nylas application has its own Client ID and Client Secret. You can see these values in the Nylas Dashboard:
Select your application from the dropdown menu at the top left of the page.
Click App Settings in the left navigation menu.
Nylas displays the Client ID and Client Secret at the right side of the screen.
Custom application icon
You can upload a custom logo or icon for your application from the Dashboard. This image appears in the authentication flow if you are using hosted authentication, and helps the user understand that it is your app asking them to log in.
Icons must be in PNG, JPG, or TIF format, and 1MB or smaller. Nylas resizes the image to 72x72 pixels, so it should be square.